The Red Star Macalline Global Home Furniture Mall in Zhongshan is a super five-star home shopping mall with the highest grade, the largest scale, the most complete categories, and the most complete supporting facilities in Zhongshan built by Red Star Macalline.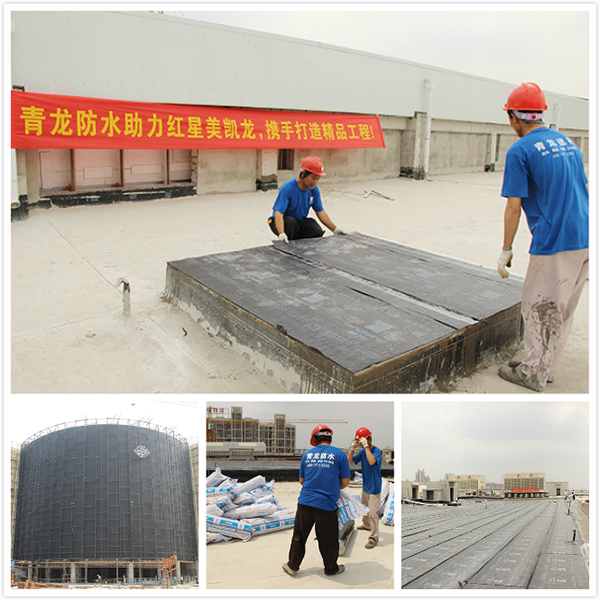 After the opening, the port shopping mall will become the first direct-sale flagship store in Guangdong Province, and its scale and volume will be the highest in Zhongshan.
Mr. Song, the project manager of Qinglong Company, stood out from many waterproof companies by virtue of excellent waterproof material quality and correct bidding strategy, and successfully won the bid for this well-known waterproof project, and undertook the basement floor and basement roof of Red Star Macalline Global Home Furniture Mall, sidewall waterproof construction, roof waterproof construction and roof ointment caulking and other waterproof works.
According to the design requirements and different waterproof parts, under the guidance of Qinglong waterproofing expert XCMG, a scientific and rigorous waterproofing plan was formulated, using CQ107- Non-Tar Polyurethane Waterproof Coating, CQ104- Pure Single Component Moisture- Curing Polyurethane, CQ105- Polymer-Modified Cement Compounds (JS) and PCM Reaction Sticky Pre-Paving Waterproof Membrane.
Qinglong waterproof material has excellent quality and remarkable waterproof performance. Under Mr. Song's strict construction, it has been affirmed by Party A and the supervisor. Due to the simple construction and low technical requirements for workers, the waterproofing construction progressed very smoothly, and the waterproofing project is currently in the final stage.