GRC IN BUILDING COMPONENT
GRCpresents architects and engineers with a material from which the most ambitious designs can be created. It can be moulded to form modern futuristic designs or to replicate traditional historic features. GRC can be painted, faced with fine aggregates, coloured or simply left with a natural white or grey, smooth or textured finish.

Moulded GRC components such as window sills, window surrounds, cornices, door portals and columns can add decoration to residential and commercial buildings while also meeting functional needs.


SANYA FESTIVAL SQUARE
All the project adopts the colorful GRC are installed, the modelling of the rich, natural color, make the beauty of the building and the surrounding environment integration, also can highlight the structure of the noble feeling, more accomplished colorful GRC engineering and a classic masterpiece.
The company's projects include clubhouse, exhibition hall and exterior wall imitation stone slab, imitation stone sculpture, GRC European component production and installation project. Due to the customer request to GRC European member decoration is very strict, we held conference for many times, formed a well-trained, experienced elite team, devote to developers to create beautiful buildings.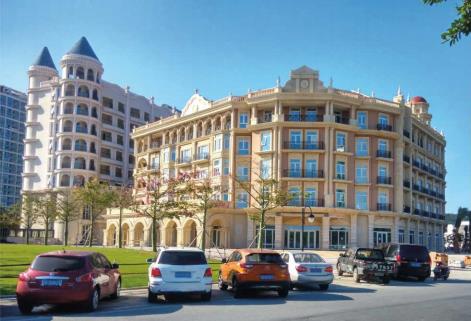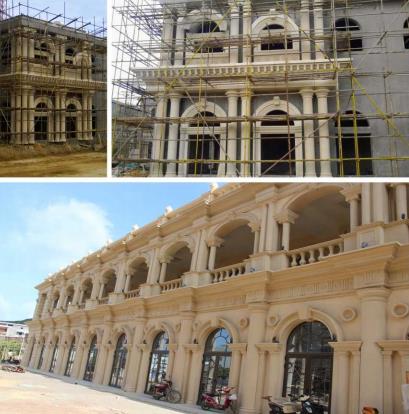 GUANGXI LIYUAN HOTEL
The project total construction area is 65000m

2

, three layers underground, 5 to 7 layers on the ground. Building No.1 with a total of 5 floors, No. 2 with 6 floors, No. 3 with 7 floors.

This project will serve as a supporting building for the international conference center of Liyuan villa, and will serve china-Asian exposition and other important conference events.

At the same time, as the signing project and key project of the government in 2015, the project has attracted wide attention since the project started. We undertook the GRC production and installation. With the colorful GRC engraving flower board, its unique color GRC frame design is novel, the modelling complexity, the technical requirement is difficult to refresh the domestic similar construction record.

The project is adjacent to Nanning famous scenic area of Qingxiushan, which is one of the typical projects of Qinglong in the GRC field.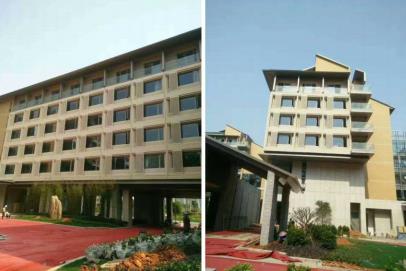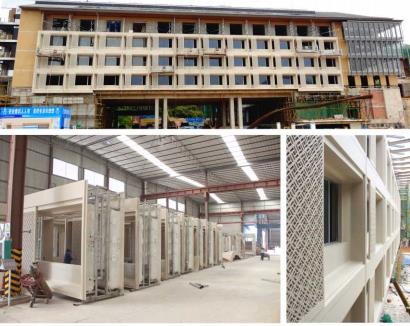 GRC INSTALLATION PROCESS
Construction setting out → lnstallation of steel frame → lnstallation of linkers → Lifting the GRC panel → Joint of bolt → Adjust the position of GRC panel → Measure and recheck → Welding →Antiseptic → Sealant →Painting-Rock wool insulation →lnstallation of ornamental plate.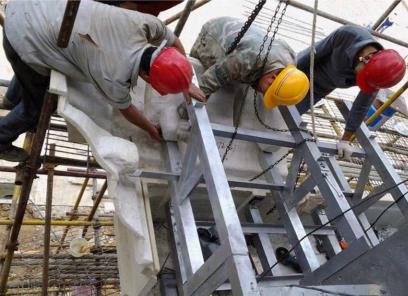 PRODUCTION METHODS
Premix GRC: It not only better control of mix design, materials usage and wastage but also more consistent material properties and less labour.
Sprayed GRC can significantly increase the efficiency of production and eliminate the need for vibration. The elimination of vibration also helps provide a greener working environment.


FIXING SYSTEMS
Based on the building structure and fixing parts. Crazy Magic Stone can be taken to various types of installation. For many years of science research and experiments, Qinglong has developed several simple, durable solution to fix up with greatly improve construction efficiency.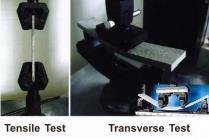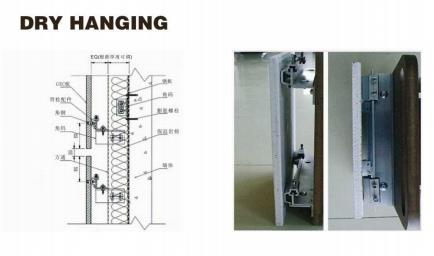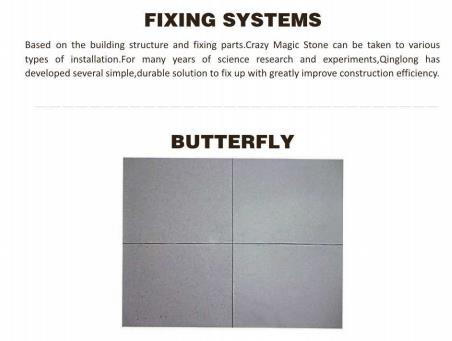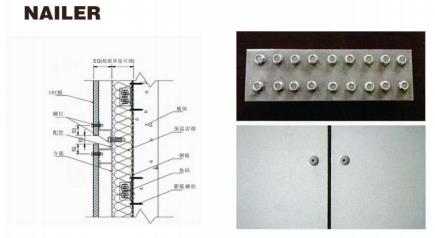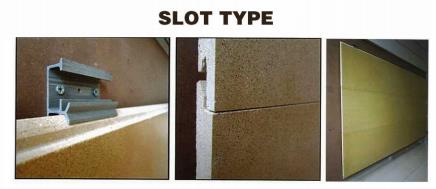 GRC CONSTRUCTION PROCESS THE COMMONLY USED AUXILIARY


Angle steel, channel steel, Corner, steel hanger, furring channel, galvanized angle titanium, galvanized flat steel embedded parts.
Construction setting out → lnstallation of steel frame → lnstallation of linkers → Lifting the GRC panel → Joint of bolt → Adjust the position of GRC panel → Measure and recheck → Welding → Antiseptic → Sealant → Painting → Rockwool insulation → Installation of ornamental plate.